SLUH Announces First Recipients of Sacred Heart Award
SLUH honored the first two recipients of the Sacred Heart Award – John Vatterott and Dr. Mary Lee McConaghy – at the Mass of the Holy Spirit in the Si Commons on August 31. This new award recognizes women and men who are not alumni of the school for their exceptional support and collaborative spirit.
"John Vatterott and Dr. Mary Lee McConaghy represent the best of the many women and men who support our mission and who are not alumni of our school," says SLUH President Alan Carruthers. "We proudly recognize them for their remarkable contributions and exemplary partnerships in collaborating to form young men of competence, conscience, courage and compassion."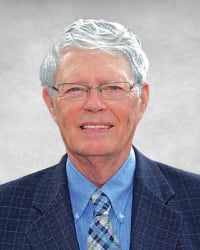 John Vatterott studied at Campion High School, a Jesuit school in Wisconsin that has since closed. He was born to a large, Catholic family as one of 17 children.
His career began as a vocational rehabilitation counselor for the Missouri Department of Education. It was during his tenure in this position that he recognized a need for stronger trade schools. In response to this community need, he co-founded Vatterott College in 1969 and continued leading the school until 2003.
Vatterott has been an important member of the SLUH community for many decades, and his commitment to the school's mission continues to this day. A past SLUH parent and former member of the Board of Trustees, several years ago he and his wife Joan made the largest charitable gift to St. Louis U. High in the school's storied history.
Beyond SLUH, John helped to found Loyola Academy, and launched Access Academies, a network of support for students in middle schools across the metro area. He has served on numerous boards and supported a wide range of Jesuit ministries and nonprofits on both sides of the Mississippi River, throughout the country, and internationally. He is a model philanthropist in his commitment to collaboration, his passion for the mission of the Church, and his overwhelming love for the Jesuits and SLUH.
The study of Latin, mostly under the instruction of Jesuit priests, was a long tradition at SLUH. In 1979, however, Mary Lee McConaghy, Ph.D. put a new face on an ancient language. "Magistra" (meaning "teacher" in Latin), as generations of students and even some colleagues have affectionately called her, was one of only three female teachers at SLUH her first year – and the only one the following year.
Dr. McConaghy taught freshmen and juniors for 30 years, moderated the Latin Club and coached many successful teams in national Latin competitions. She brought Classical Greek back to the SLUH curriculum in 1991. In 2009, she retired from full-time teaching but continued teaching Greek – and does so to this day.
In addition to building a culture of scholarship, achievement and excellence in the Classics, she developed a rich culture of co-curricular investment in the subject. Her "Saturnalia" event was legendary and superlative student performance in various contests was well-known.
Long before the terminology of "Social and Emotional Learning" became popular, Dr. McConaghy used joy, security, energy, surprise, passion and love to inspire and motivate her students. And, well before teachers were being urged away from lecture and a teacher-centered classroom into various modes of learning, she was using art, performance, costume and contests to enrich the learning experience and encourage mastery.
Revered by alumni, students and colleagues, Dr. McConaghy displays unbridled enthusiasm for the Classics and an infectious passion for teaching. An annual SLUH award established in her name honors a senior who, like her, shows the "invaluable qualities of integrity, dedication and enthusiasm."
A pillar and pioneer of women in education and formation for more than 40 years at SLUH, Dr. McConaghy personifies the Jesuit affirmation of study – especially in Arts and Letters – for its own sake. That affirmation of the "worldliness" of Humanities and the Classics, even apart from sacred texts and explicitly religious content, powerfully reaffirms "finding God in all things."
About the Sacred Heart Award
The Sacred Heart Award was established in 2021 to recognize the remarkable contributions and exemplary partnerships that St. Louis U. High enjoys with women and men who are not alumni of the school. Like the Backer Award, which honors distinguished alumni, the Sacred Heart Award recognizes extraordinary women and men who have discovered a love and devotion to St. Louis U. High not from an experience as a student or alumnus, but through a passion for the school's mission.
When the Society of Jesus first came to this region in the early 1800s, they were assisted in important ways by the Sisters of the Society of the Sacred Heart, most notably by a special friendship with St. Rose Phillippine Duschene. This award pays homage to that early friendship and experience of collaboration between the Jesuits and the Society of the Sacred Heart which was foundational for the Jesuit frontier mission. This commitment to collaboration remains essential for SLUH to thrive today and it is essential for the life and mission of the Church.
The Sacred Heart Award builds on this centuries-old tradition of women and men who are not alumni generously befriending SLUH and sharing a vision for the good that can be accomplished through collaboration.
Fr. Pedro Arrupe, SJ, Superior General of the Jesuits, made an appeal in June of 1965 to all Jesuits worldwide on behalf of the Jesuits' historic devotion to the Sacred Heart. Fr. Arrupe said, Christ "is the center of all and therefore all things are held together in him. But searching more closely still, we shall find that in Christ himself there is something which is 'central,' that brings together everything that is in him; a center toward which all the points of the circumference converge; a center from which all the lines start to the periphery. This core is his love, symbolized in his Heart."
---
The Sacred Heart of Jesus has long inflamed the Catholic imagination and served as a source of vibrant devotion. Since the 16th century, this devotion has had a special relationship to the Society of Jesus (Jesuits). In the 17th century, St. Margaret Mary Alacoque encountered the Sacred Heart of Jesus through apparitions. With the help of her spiritual director, Fr. Claude de la Colombiere, SJ, she began promoting this rich devotional path. A statue of the Sacred Heart (pictured) has stood at the front of the SLUH Chapel for nearly 100 years, representing this sacred history and the commitment of SLUH to keep the Sacred Heart of Jesus central to our mission.